…so that Christ may dwell in your hearts through faith—that you, being rooted and grounded in love, may have strength to comprehend with all the saints what is the breadth and length and height and depth, and to know the love of Christ that surpasses knowledge, that you may be filled with all the fullness of God.
The Women's Ministry of EBFC seeks to disciple women in the gospel as they conform to the image of Christ through
the means of Bible study, mentor-ship, service, and community as well as equipping them for active ministry in the home, church and workplace.
Rooted activities include Bible studies, fellowship evenings, holiday events (Mother's Day Breakfast and Christmas Brunch), occasional women's retreats, and service projects. These activities are throughout the year; times and places vary and are announced via church bulletin and other publications.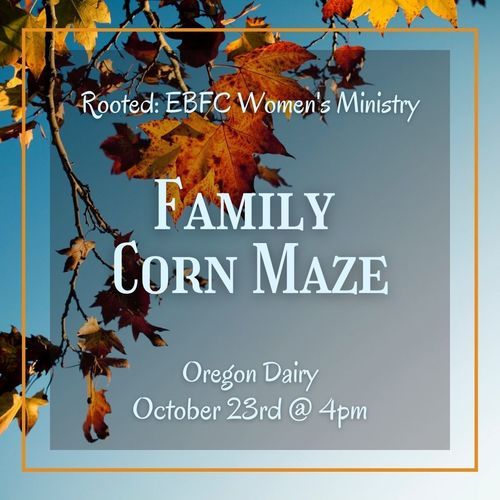 Please join us on Oct 23rd @ 4pm at Oregon Dairy for a Church family corn maze for all ages. Bring your friends and family for a time of fun and fellowship with your church family!
Purchase your tickets at the corn maze.
Tickets prices are $12 each for ages 3 - 64, and $10 each for seniors 65+.
Please contact Sarah Johnson with any questions.
You're invited to our Fall Bible Study!
Starting September 13, 2021 through November 15, 2021.
There are 2 Sessions available:
Thursday @ 10am at Elizabeth Morrison's home, and led my Deb Keebler
Tuesday @ 6:30pm at Gail Yates' home, led by Gail Yates and Beth Spead
Please let us know you are coming by signing up at the information table.
Please contact Keren Dalavai to order a book or with any questions (contact form below).
Email: kdalavai97@gmail.com


We'd love to hear from you. Fill out the form below to get started.